Description
Slewing pillar jib crane Gryf
Application of the slewing pillar jib crane
Slewing pillar jib cranes are versatile lifting devices of material handling. They are used to optimize the production process at the workplace.
Most often, these types of cranes help companies dealing with:
steel processing,
metallurgy,
the chemical and petrochemical industries,
in other production plants.
They are also more and more often used in logistics, workshops, and the automotive industry.
Similarly to other slewing pillar jib cranes available in our offer, the proposed Gryf model is characterized by high-quality workmanship and ensures stable work in all conditions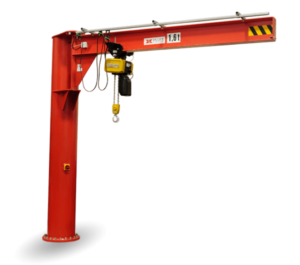 The proposed Gryf with 270-degree rotation can be placed next to a workstation, and by doing that, the device facilitates lifting and moving heavy items. The operation is very intuitive and will not cause any trouble to any user.
This model cooperates perfectly with the load up to 2 500 kg!
Technical data of the Gryf
Slewing pillar jib crane is fixed to the floor with a dynamic board or mounted on in foundation.
The light rotation is guaranteed by the double bearing jib.
See what properties the 270 ° Gryf jib crane characterizes.

slewing range up to 270 degrees
manual jib crane rotation
capacity from 80 to 2500 kg
jib length from 2 to 10 metres
double-bearing jib for light rotation
manual or electric chain hoist to choose from
manual or electric trolley to choose from
working in or outside the hall
in standard – set of anchors to make foundation
possibility of fixing the lifting device to the floor with a dynamic board (an alternative to the foundation)
swivel limitation of the jib
Other capacities, jib lengths and possible heights are on request.
With Gryf model, you can suspend devices like:
Check our individual projects of jib cranes.
IMPORTANT:
Jib cranes with a lifting capacity of 250 kg are subject to UDT. To use the device, the jib crane has to pass registration with the Office of Technical Inspection.
Also possible in the ATEX version for potentially explosive atmospheres. 
Contact our specialist and adjust the jib crane to your needs!