Description
Vacuum manipulators ERGO, EASY, MASTER in c

hemical and pharmaceutical industry

.

Why the chemical and pharmaceutical industry?
First of all, we improve logistics processes in laboratories, chemical laboratories, various research institutes, in warehouses and production plants.

Take advantage of the solution that makes handling of the sensitive loads more reliable and secure.
Lift with a vacuum manipulator loads, such as:
• canisters,
• buckets,
• cartons,
• bags,
• barrels,
• cans and many more.
Manipulation: drums made of plastic, metal, stainless steel

Regardless of whether empty or full barrels are moved, the activity, which is repeated many times in one day, puts a strain on the employee's spine. With the Manut-LM vacuum device you can grab the barrel by the lid, use a round suction cup to transport the load, or put the goods away in a high-storage location. What's more, thanks to special accessories you can rotate the barrel and pour away its content wherever you need.

Palletisation: buckets, canisters
Use a vacuum lifter to move dangerous or very expensive substances that require careful handling. Moreover, pick up all kinds of canisters. In addition, you can use a suction cup for closed lid of the bucket or a specially fitted hook to lift the bucket that is opened.

Manipulation: Sacks, bags and cartons
Thanks to the gripping devices you can grab several cartons at the same time. When there is a need, we can design a suction cup that will allow you to safely remove the goods from the carton.
Do you carry multi-kilo bags? Now Manut-LM will do it for you – for an even better grip, so that no air escapes, you can use a blue skirt.

Depending on the application, the vacuum lifters have two types of grips, for instance:
FAST –

easy clamping, enables quick tool change

.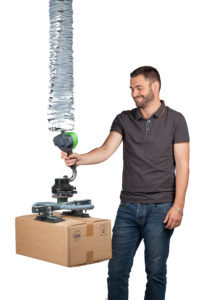 PLUS – extended handle; use it when the lifting of goods / cargo has a larger overall size; this handle allows the operator to stand far from the load.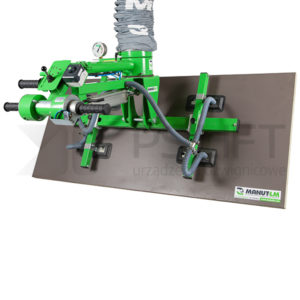 Do you need an individual solution? Nothing easier!
BOTH ERGO, EASY AND MASTER VACUUM LIFT WILL APPLY IN ALCOHOL INDUSTRY. DEPENDING ON THE LOAD CAPACITY, NEEDED HANDLE AND TYPE OF SUCTION CUPS, OUR SPECIALISTS WILL ADJUST ERGONOMIC AND PROVEN SOLUTIONS TAILORED TO YOUR NEEDS!
Moreover, our vacuum manipulators can be suspended on jib cranes, aluminum crane systems, as well as articulated jib cranes.