Description
Vacuum manipulators ERGO, EASY, MASTER in construction.

Why the construction?
Certainly, the manipulator is one of the best lifting solutions on the construction site, construction workshops and on the production lines where all kinds of solutions in the construction industry are manufactured.

Pick up the products, such as:
• all kinds of bags – plaster, gravel, concrete, etc.
• windows,
• metal sheets,
• blocks, forms, concrete details,
• stone slabs,
• paving,
• bricks, hollow bricks,
• solar panels,
• buckets,
• all those loads at construction sites or in manufacturing plants dealing with this industry.
Hang the device on the movable jib crane, which is adapted for allocation with a forklift.
Handling:

concrete blocks, stone slabs, paving stones
Use the Manut-LM vacuum manipulator and lift heavy concrete blocks or stone slabs.
Grab several paving stones at once, place multiple curbs one next to the other and move to any chosen place. Carrying bulky, often large stone slabs is over! Now, with Manut-LM everything is easy.

Manipulation: bags, buckets
Loads don't always have to be heavy or bulky. Nevertheless, bags of plaster, cement or gravel, coming off the production line, must be constantly removed from it.
This means that even a 10 kg bag after a few hours of work becomes heavy, and the risk of injury is inevitable. Therefore,, pick up any type of sack, bag or bucket with Manut-LM vacuum equipment and save your time!
It's simply that easy!
Lifting: panels
Manut-LM allows you to move panels of all types of material regardless of their size.
The operator becomes autonomous in the field of lifting heavy loads.
The vacuum lift is a guarantee of safety, ergonomics and efficiency.
Depending on the application, the vacuum lifters have two types of grips, for instance:
FAST –

easy clamping, enables quick tool change

.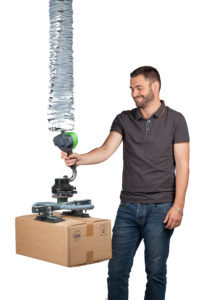 PLUS – extended handle; use it when the lifting of goods / cargo has a larger overall size; this handle allows the operator to stand far from the load.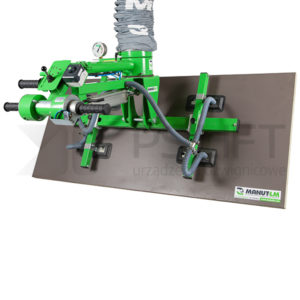 Do you need an individual solution? Nothing easier!
BOTH ERGO, EASY AND MASTER VACUUM LIFT WILL APPLY IN ALCOHOL INDUSTRY. DEPENDING ON THE LOAD CAPACITY, NEEDED HANDLE AND TYPE OF SUCTION CUPS, OUR SPECIALISTS WILL ADJUST ERGONOMIC AND PROVEN SOLUTIONS TAILORED TO YOUR NEEDS!
Moreover, our vacuum manipulators can be suspended on jib cranes, aluminum crane systems, as well as articulated jib cranes.