Description
Vacuum manipulators ERGO, EASY, MASTER in food industry.

Why the food industry?
Increase productivity in the food production chain!

Manut-LM carries all kinds of loads intended for the food industry:
• groceries,
• bags,
• containers,
• cartons,
• bag,
• all kinds of packaging,
• bottles,
• boxes, etc.
Tailored vacuum solutions are adapted to the constraints of the food industry, in particular regarding sanitary regulations regarding the materials used.

Cutting packaging costs: food products
First of all, the developed solutions are great for handling many food products: blocks of butter, cheese, ham. What's more, the loads can be quickly moved. In addition, by creating stainless steel lifters, the MANUT-LM vacuum manipulators guarantees full compliance with hygiene and safety standards.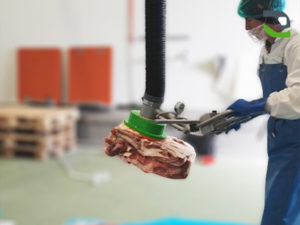 Palletization: crates, boxes, open packaging
We create gripping tools specifically for the type of container you use. Because of that, it allows quick and precise handling. For instance, specially constructed hooks or forks allow you to adapt to the shape of the food boxes being transported.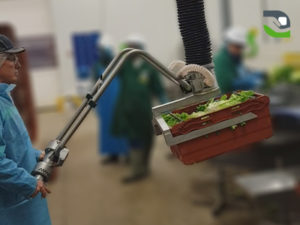 Palletisation: cartons
Solutions facilitating cardboard handling. It is possible to use several suction cups to lift more cartons at the same time. Thanks to the extended PLUS handle, it is also possible to store cartons high.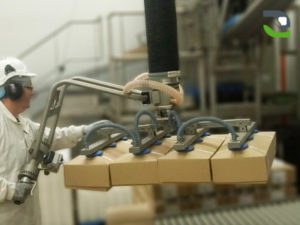 Manipulation: bags, bottles, packaging, and more
Due to o the ability of matching suction cups to any type of the load, the handling of the products with unusual shapes has never been easier.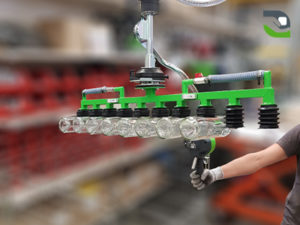 Lift, load, unload, transport products such as, plastic and glass water bottles, jars, canned goods, loose sacks.

Depending on the application, the vacuum lifters have two types of grips, for instance:
FAST –

easy clamping, enables quick tool change

.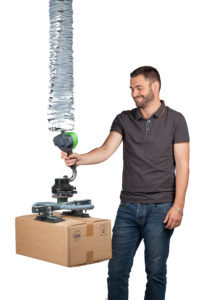 PLUS – extended handle; use it when the lifting of goods / cargo has a larger overall size; this handle allows the operator to stand far from the load.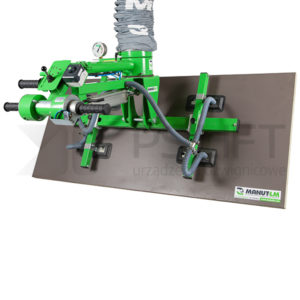 Do you need an individual solution? Nothing easier!
BOTH ERGO, EASY AND MASTER VACUUM LIFT WILL APPLY IN FOOD INDUSTRY. DEPENDING ON THE LOAD CAPACITY, NEEDED HANDLE AND TYPE OF SUCTION CUPS, OUR SPECIALISTS WILL ADJUST ERGONOMIC AND PROVEN SOLUTIONS TAILORED TO YOUR NEEDS!
Moreover, our vacuum manipulators can be suspended on jib cranes, aluminum crane systems, as well as articulated jib cranes.