Description
Vacuum manipulators ERGO, EASY, MASTER in industrial production.

Why the industrial sector?
First of all, Manut-LM vacuum manipulator is a device that will find its application in all kinds of factories, manufactories, enterprises and production plants. Moreover, the vacuum lifter fits well the production lines.

Regardless of whether it is a first stage in the production chain, the last step of preparing the goods for shipment, or the moment of accepting the delivery. Manut-LM has its advantages in companies where it is necessary to handle the load.
Therefore, lift with the device products, such as:
• plates,
• glass,
• car parts,
• bodywork,
• metal sheets,
• castings and moldings,
• batteries,
• tools, forms, pipes,
• elements of joinery: doors and windows,
• cartons, bags, buckets, containers, foil rolls, etc.

Well used product: joinery
The Manut-LM solution allows you to raise and transport windows and doors.
At the customer's request, the handles with the grips have the rotation system. Therefore, the operator can tilt the load or access the product from all sides of the workpiece. What's more, the gripping tools are adjusted to be able to lift gently the joinery elements without damaging any of the details.
Manipulation: Plates and sheets
Manut-LM solutions allow moving sheets and plates of any size. Thanks to the elongated articulated handle, the operator can store sheets to a predetermined height. Moreover, the worker does not have to be right next to the load. No more awkward lifting! With this, by using a vacuum lifter, the operator gains autonomy and can do the job all by himself.

Production: car parts, bodyworks, tools, molds, pipes, batteries and more

The lifting device will adapt to any item coming down from your production line with a load capacity of up to 250 kg!
Reliable in Automotive industry, where all elements leaving the production line must be gently but quickly moved to the next place. Moreover, by using Manut-LM vacuum manipulators, the operator is guaranteed that often expensive and bulky loads will be safely transported to their destination.
Depending on the application, the vacuum lifters have two types of grips, for instance:
FAST –

easy clamping, enables quick tool change

.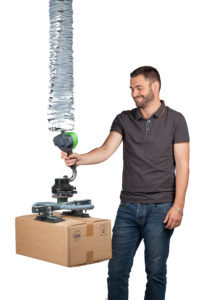 PLUS – extended handle; use it when the lifting of goods / cargo has a larger overall size; this handle allows the operator to stand far from the load.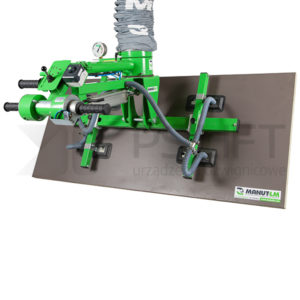 Do you need an individual solution? Nothing easier!
BOTH ERGO, EASY AND MASTER VACUUM LIFT WILL APPLY IN ALCOHOL INDUSTRY. DEPENDING ON THE LOAD CAPACITY, NEEDED HANDLE AND TYPE OF SUCTION CUPS, OUR SPECIALISTS WILL ADJUST ERGONOMIC AND PROVEN SOLUTIONS TAILORED TO YOUR NEEDS!
Moreover, our vacuum manipulators can be suspended on jib cranes, aluminum crane systems, as well as articulated jib cranes.