Description
Vacuum manipulators ERGO, EASY, MASTER in logistics.

Why the logistics?
Use Manut-LM vacuum lifter to ensure safety and efficiency during loading operations at warehouses, halls, sorting plants and even at airports.
For instance, lift with ease:
• Cartons,
• baskets,
• bags,
• pallets,
• foil rolls,
• reels
• suitcases, and more.
Increase productivity in the logistics chain! Moreover, depending on the specificity of your company transport any type of the load you want. These can be devices, goods that have not yet been packed. Regardless of your company's specialization, Manut-LM will help you pick up and move every product or equipment.
Palletization: containers and suitcases
Depending on the type of load, we can for example provide special constructions for boxes and crates.
Do you need to sort the suitcases? Now it is also possible, because of our gripping tools that are designed specifically for the type of containers or suitcases used. Therefore, handling them is quick and precise.
Manipulation: cartons
To relieve an employee, Manut-LM vacuum manipulators allow lifting many boxes at the same time.
Moreover, the device also enables high storage of cartons thanks to the extended arm option with the PLUS handle.

EURO PALLETS
Gripping tools allow quick and precise gripping with forks or suction cups. The pallets are lifted with ease.
Thus, the device relieves the employee and reduces the risk of injury and injury.
Depending on the application, the vacuum lifters have two types of grips, for instance:
FAST –

easy clamping, enables quick tool change

.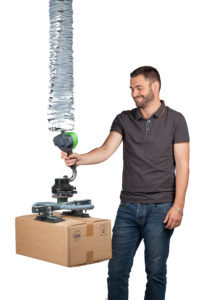 PLUS – extended handle; use it when the lifting of goods / cargo has a larger overall size; this handle allows the operator to stand far from the load.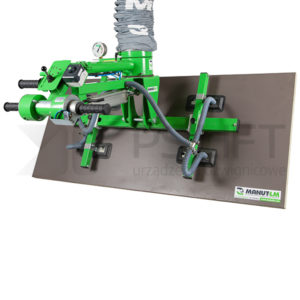 Do you need an individual solution? Nothing easier!
BOTH ERGO, EASY AND MASTER VACUUM LIFT WILL APPLY IN LOGISTICS. DEPENDING ON THE LOAD CAPACITY, NEEDED HANDLE AND TYPE OF SUCTION CUPS, OUR SPECIALISTS WILL ADJUST ERGONOMIC AND PROVEN SOLUTIONS TAILORED TO YOUR NEEDS!
Moreover, our vacuum manipulators can be suspended on jib cranes, aluminum crane systems, as well as articulated jib cranes.