Description
Vacuum manipulators ERGO, EASY, MASTER in wood, paper and furniture industry.

Why those industries?
Industries where large and heavy loads need proper lifting devices. 
Lift the load such as:

• panels,
• wood-based panels,
• beams,
• bobbins and rolls of paper,
• cartons,
• boards,
• wooden constructions,
• waferboards,
• plywoods,
• MDF boards and many others.
Find the use of vacuum lifters in your company. Most likely to be usuful in carpentry and upholstery, sawmills, woodsheds, paper mills, furniture production plants, as well as drying rooms.

Cutting cost: Panels
From now on, only one operator will move loads with large dimensions, such as panels. Thus, you reduce costs, and it makes the work safe and ergonomic. What's more,  your employees have no reason to bring sick leave. A great solution for wood manipulation, regardless of its size, up to 250 kg capacity.
Final processing:

Wooden beams, boards
Manipulation of wooden beams or boards is a burdensome and dangerous operation. Manut- LM adapts itself to the specifics of your company and to the weight and dimensions of the final load.
Palletization: Bobbins, paper rolls
A specially designed handle adapted to the diameter of the hole allows you to keep the roll or paper bobbin without any problem. Moreover, the comfortable handle allows for quick and smooth load handling. The vacuum device is great at handling wrapped rollers or other similar details. All in all, depending on customer needs, it is possible to grab the product from the side.
Production chain: furniture industry
ABove all, the vacuum manipulator, and in particular the Master model, is an absolute must have in the aforementioned sector. Master is a device that lifts all kinds of chipboard, plywood, laminated, fibreboard. Certainly, it is useful for handling furniture and construction panels. With Master, the operator is independent. Moreover, he raises plates that are even 3 – 4 meters long without any muscle effort.

Depending on the application, the vacuum lifters have two types of grips, for instance:
FAST –

easy clamping, enables quick tool change

.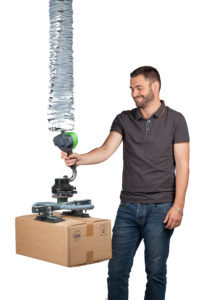 PLUS – extended handle; use it when the lifting of goods / cargo has a larger overall size; this handle allows the operator to stand far from the load.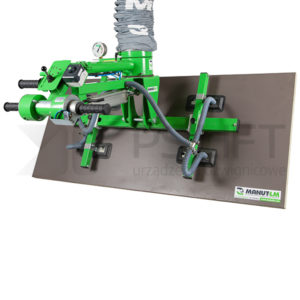 Do you need an individual solution? Nothing easier!
BOTH ERGO, EASY AND MASTER VACUUM LIFT WILL APPLY IN ALCOHOL INDUSTRY. DEPENDING ON THE LOAD CAPACITY, NEEDED HANDLE AND TYPE OF SUCTION CUPS, OUR SPECIALISTS WILL ADJUST ERGONOMIC AND PROVEN SOLUTIONS TAILORED TO YOUR NEEDS!
Moreover, our vacuum manipulators can be suspended on jib cranes, aluminum crane systems, as well as articulated jib cranes.