Description
Vacuum manipulators ERGO, EASY, MASTER in the alcohol industry.
Why the alcohol sector?
First of all, Manut-LM finds its application in vineyards, distilleries, breweries – brewing plants.

We offer handling solutions for lifting:
• wooden boxes,
• cartons,
• bottles,
• barrels, etc.
Learn some of the activities in which a vacuum lifter can help the operator. Palletizing and depalletizing loads, helping in the production chain, pulling out and putting goods into cartons or boxes. 
FAMILIARIZE YOURSELF WITH THE ADVANTAGES OF VACUUM TECHNIQUE IN THE ALCOHOL SECTOR
Manipulation: plastic and glass bottles, bottles of unusual shape
Thanks to the Manut-LM solution, lifting, packing and unpacking many bottles at the same time allows you to increase your company's productivity.
What's more, not only the gripping tool easily removes the bottles from a carton or a crate, but also is very helpful with placing the bottles on the bottling line.

Palletization: crates
First of all, with Manut-LM it is easy to move cartons and wooden crates. Not only the empty ones, but also the ones with the load inside.
Moreover, by choosing an extended arm with a handle plus the operator is able to place the load to the height needed.
Palletization: barrels
With this vacuum manipulator wooden, plastic and metal barrels can be easily handled. In addition, stainless steel kegs, special barrels for wine storage and many more can also be moved.
What's more, it is possible to grip the barrels by the lid, specially made hooks or round suction cups (Ergo solution).
The vacuum lift not only allows you to move the barrel from one place to another, but also to tilt it – the barrel can be grasped from the side.
With this in mind, no more uncomfortable and unergonomic bottling work for you!

Depending on the application, the vacuum lifters have two types of grips, for instance:

FAST –

easy clamping, enables quick tool change

.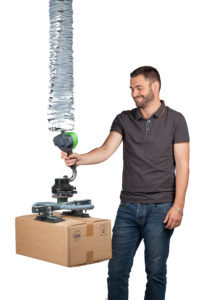 PLUS – extended handle; use it when the lifting of goods / cargo has a larger overall size; this handle allows the operator to stand far from the load.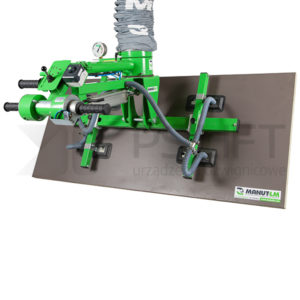 Do you need an individual solution?

Nothing easier!
BOTH ERGO, EASY AND MASTER VACUUM LIFT WILL APPLY IN ALCOHOL INDUSTRY. DEPENDING ON THE LOAD CAPACITY, NEEDED HANDLE AND TYPE OF THE SUCTION CUPS, OUR SPECIALISTS WILL ADJUST ERGONOMIC AND PROVEN SOLUTIONS TAILORED TO YOUR NEEDS!
Moreover, our vacuum manipulators can be suspended on jib cranes, aluminum crane systems, as well as articulated jib cranes.