Description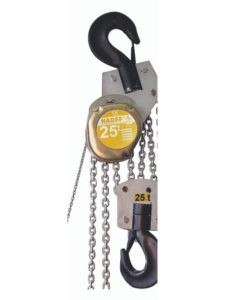 CONSTRUCTION
The chain hoist has a compact, robust steel cover.
The high work safety factor makes the device even more desirable. It is thanks to latches and overload protection.
The manual chain hoist is equipped with a swivel hook with a ball bearing. This solution prevents the chain from twisting while lifting or lowering the load.
CHAIN
Both the load and maneuver chains are galvanized.
The galvanized load chains have a high strength factor.
Moreover, for the customer's needs, we can provide non-standard chain lengths.
HADEF 5t chain hoist has a single chain fall, which makes the device rare on the market.
LIFTING
This chain hoist works in various types of enterprises.
The device meets all customer needs. The best advantage is the lifting and lowering of the loads with capacities from 5,000 kg to even 50,000 kg.
APPLICATION
The robust maneuvering chain allows for easy and light handling. One person can lift 25 000 kg of load with this chain hoist.
It improves the efficiency of your team.
OPTIONS
Various equipment options are possible:
stainless steel chains
chain container
galvanized or bronze hooks
ATEX version available for potentially explosive atmospheres
Any questions? Contact us!